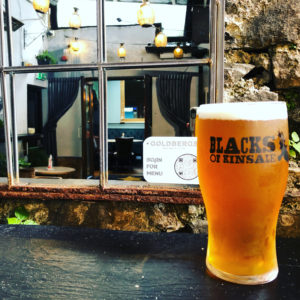 Well, for a long weekend, that is. We had planned a trip to Cork last year, but it had to be cancelled when the second lockdown began, so it was very much an overdue visit. For those keeping score at home, we moved to Dublin in February of 2020, and, of course, Things Happened, so those expected short jaunts across Europe and trips back to visit family in the US never happened; we've only managed to leave Dublin once before as a family, with a trip to Kilkenny during the Lockdown Interregnum. In short, we haven't had the opportunity to explore much of Ireland since arriving here, especially as many places are not accessible via public transit, though that's another story, so it was *
very
* exciting to be back on a train (I LOVE TRAINS).
For those outside Ireland, we are still very much a masked society (I shudder to think how many recently-formed emo-jazz-baroque combos have called themselves Mask'd Society), so there was nothing especially unusual about masking up for the bus and train or shops, though for the adults in my group, our fully-vaccinated status now means we can drink and dine indoors in some places, which is, to say the least, both rather exciting and a bit worrying. In theory, we can bring the offspring in to many places for dining, but we're not up for that yet, so it meant we aimed to book as much outdoor-but-sheltered dining in Cork as possible – and, as it turns out, Cork has done a great job of closing streets for outdoor food and drink, with well-secured tents and awnings, in a way that has not happened on the same scale in Dublin (or, perhaps more accurately, in as concentrated a way in the city centre – maybe?). And while we only had relatively brief time periods of more torrential rain, there was, unsurprisingly, plenty of wind, so some form of cover was key.
Traveling with kids during a pandemic – even low-key, local travel – is an odd mix of booking ahead and leaving things as flexible as possible; it's a guessing game in terms of what will and won't be open, what needs to be planned well in advance and what can be done more spontaneously (and who is going to be unreasonably grumpy). This isn't a complaint, as we are very fortunate to be fully vaccinated, and to have at least one child halfway there, with one jab done – the other isn't yet old enough – and to take the break from work during a less-busy time, but it does mean it's wise to not get too wrapped up in any particular sight or activity as a must-do (looking at you, swimming).
The Journey
Although we're out of practice at getting people out the door, we had no issues here; the train trip was made even more pleasant by scoring a copy of
Chat: It's Fate!
in the station; clearly, it was meant to be. In a nice bit of synergy, my copy of
Take a Break: Fate & Fortune
arrived at my home when we got back. Written in the stars, no doubt.
The Hotel
We stayed at the 
Clayton Hotel Cork City
, which proved to be very handy. The hotel choice was driven by 1) walkability and 2) an indoor pool, as the smaller child was absolutely set on getting to swim. The hotel did a great job of social distancing, keeping things clean and airing out rooms, and people all wore masks in most of the public areas. It was a little tricky to book pool slots – they were all gone by the time we arrived – but they had a good system to call down to see if there was space from no-shows, etc. – and we managed to find space more often than not. I had no trouble getting into the gym, and being back in a hotel gym for the first time since March of 2020 was – for a weirdo like me – thrilling, even if it meant working out in a mask.
The Food
We did the must-do tourist thing and hit the English Market on a weekday, and it was still fairly crowded, though not uncomfortably so. Unsurprisingly, hipster popsicles were among the top discoveries there (I mean, we knew there was CHEESE), though we kept returning to 
Swoon
 for dessert milkshakes (yogurtshakes?) outside the market. We had our first dinner in Cork at 
Goldberg's
, where they have set up a gorgeous indoor-but-outdoor courtyard, and the food and service were excellent. We have been told on numerous occasions that 
Pompeii Pizza
 at Franciscan Well is the best in Ireland, and I'm not sure it beats 
Rascals
 for that, but it was very good indeed, and well worth the wait. 
Coqbull 
was another dinner spot we all enjoyed, with the burger, especially, winning high marks.
Sitting in the liminal space between food and drink (OK, not really, but I needed a transition), we stopped in at Loose Leaf, a delightful little tea shop. We've ordered online from them before in an effort to buy from Irish tea shops – it's much more difficult to find good tea than it should be in Ireland, but, like public transit, that's another story – and had a great visit, sniffing (through masks) and buying up many, many samples.
The Drink
Goldberg's had 
Black's Kinsale Pale Ale
 on tap, so it was great to see a restaurant supporting local breweries. As mentioned, we also made it to 
Franciscan Well
 and while there was nothing especially special about their house beers, there was a nice assortment of guest beers on tap from breweries like
Larkins
, 
Lervig
and 
Whiplash
. We made the most of our digital vaccine certs and grabbed a few adults-only drinks inside at 
The Bierhaus,
which had a phenomenal tap and bottle list – it really put us in mind of some of the best little Philly beer bars. We availed ourselves of further teenage childminding (really, having a decade gap between children makes us seem like master planners) and also enjoyed 
Rising Sons
who had a really nice seasonal
Helles
on, and 
The Friary
, where they were kind enough to find us a spot and talk through the small-but-well-chosen taplist when they discovered we were 'craft beer people.' We enjoyed the lager 
Curious Society/Larkins
brews for
the Friary
, and other local options included beers from 
Cotton Ball Brewing Company
– everything was lovely.
The Sights
We purposefully did not aim to schedule too much sightseeing, more to avoid disappointment if we didn't make a particular spot, but we did get to see a lot of Cork from the top of 'Kitty,' the 
Vintage Tea Trips
 bus. It was our third time on the Tea Bus – we've done their standard trip around Dublin as well as their Christmas ride – and it's always a lot of fun. For the transit nerds out there, Kitty is an old Routemaster who has been kitted out (RIGHT?) for tea on the go, complete with an old-school soundtrack and vintage-inspired illustrations inside the bus. As ever, they offered great tea tier snacks and a friendly tour.
We retraced much of the bus journey and made it to the 
Cork City Gaol 
and, later,
Fitzgerald Park
which has one of the most impressive playgrounds I've seen anywhere. The smaller child created a very fully realised narrative framework for the various sections of the playground, so it certainly worked on every level. We were following and ticking off locations on the 
Playful Culture Trail
, a very handy local guide to children's activities available at a number of locations around the city. I have a special fondness for incredibly specific local museums, and so the 
Cork Butter Museum 
 as very much my jam (I KNOW), even with the Kerrygold advert at the beginning. The collection is fascinating – I'm always here for
bog butter
– and it's a great way to illustrate local history through the lens of a particular commodity. The only thing it's missing is a little cafe with lashings of butter on everything, but perhaps that exists in Ordinary Time. We did, however, find Blaithín the lizard, star of the Playful Culture trail, at the Butter Museum.
We did not have a chance to visit 
Fota Wildlife Park
 or the
Cork Public Museum
but now that we know the lay of the land, we can file those away for a future trip; there is certainly much more to see.  Similarly, the ghost tours did not seem to be running, and I hate to visit a city without doing its ghost tour – so, next time, I hope.
Finally, it wouldn't be right to close without mentioning the public art – a city that references the 
Sultans of Ping FC
on a utility box is doing something right. Full marks.