(GREELEY, CO)— WeldWerks Brewing Co. is proud to announce their partnership with Artisan Beverage Group, an independent craft beverage distributor based in Charlotte, to increase the brewery's distribution into North Carolina.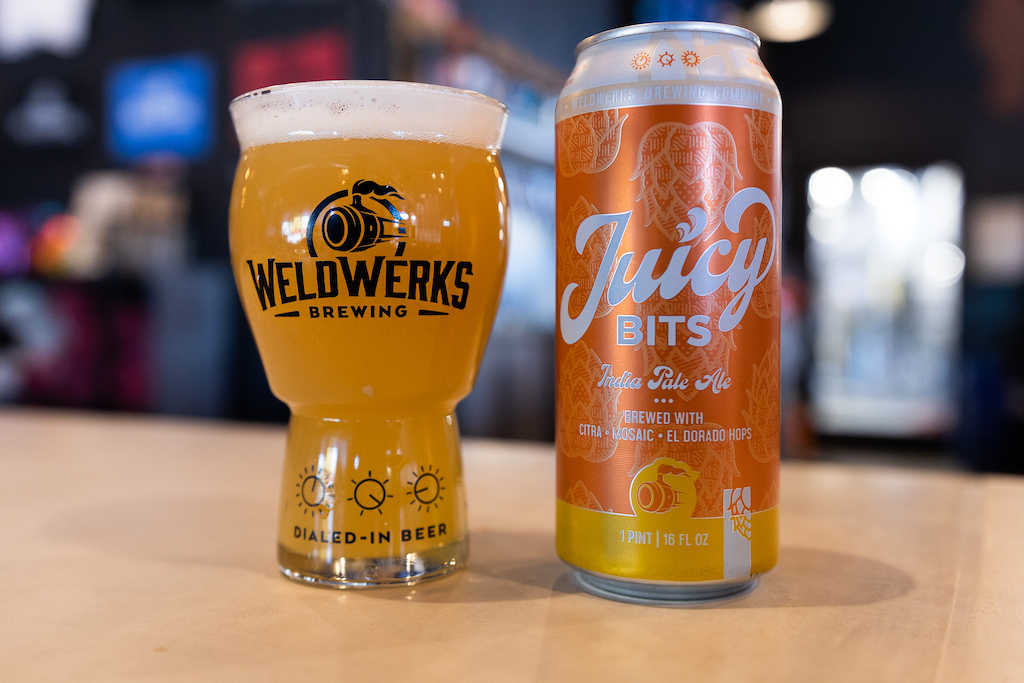 Adding the Tar Heel state into WeldWerks' distribution footprint is especially meaningful for WeldWerks Co-Founder and Co-Owner Neil Fisher given his ties to the state.
"Even though it's been fifteen years since I left North Carolina to make Colorado my home, having grown up in Raleigh, attended school at Chapel Hill, and with so many family and friends across the state, a part of my heart will always belong in Carolina," says Fisher. "I am incredibly excited that we get to work with the amazing team at Artisan to bring WeldWerks beer to the North Carolina market year round."
Beginning mid-January, participating retailers in North Carolina will be able to enjoy Juicy Bits, WeldWerks' iconic flagship Hazy IPA, Evil Haze Factory, a double Hazy IPA brewed with an obscene amount of hops, and Bamm Bamm Rubble Rubble, a fruity rice cereal sour ale, as well as other rotating beers from WeldWerks' innovative beer portfolio.
"North Carolina beer drinkers have high expectations for craft beer these days. As one of Colorado's best breweries, our team is excited to begin selling WeldWerks locally. They make amazing liquid and have great branding," says Taylor McDermott, owner of Artisan Beverage Group. "I'm certain that it will be well received by our customers and the consumer."
WeldWerks is excited to kick off the new year by adding North Carolina into their growing roster of out-of-state markets. Besides North Carolina, the Greeley-based brewery also had distribution in select markets across the U.S., including increased distribution in California, Connecticut, Iowa, Massachusetts, Minnesota, New Jersey, New York, Ohio, Pennsylvania, Rhode Island, and Wisconsin.
ABOUT WELDWERKS BREWING CO.
Established in 2015, WeldWerks Brewing Co. is an award-winning craft brewery located in Greeley, Colorado recognized for brewing an array of beer styles including Juicy Bits, one of the most highly regarded IPAs in the country. Comprised of a passionate group of individuals dedicated to bringing innovative and quality craft beer to the community it serves, WeldWerks Brewing has garnered numerous medals and acclaim on the way, including being named the best new brewery in the country by USA Today in 2016 and multiple medals at both the Great American Beer Festival and World Beer Cup. The brewery's charitable arm, the WeldWerks Community Foundation, is a 501c3 nonprofit that supports local nonprofits through events like The WeldWerks Invitational. At WeldWerks, being "dialed-in" is a way of life, helping to ensure outstanding excellence in craft beer, service and beyond. For more information about WeldWerks Brewing Co, visit www.weldwerksbrewing.com.
ABOUT ARTISAN BEVERAGE GROUP
Artisan Beverage is an independent family owned craft beverage distributor in North Carolina. Their mission is to partner with the most sought-after beverage brands and like minded entrepreneurs obsessed with quality and innovation. Artisan Beverage provides North Carolina customers with high quality products that have a sense of place and purpose. For more information about Artisan Beverage Group, visit www. artisanbeveragegroup.com.