News
Added: Wednesday, January 11th 2023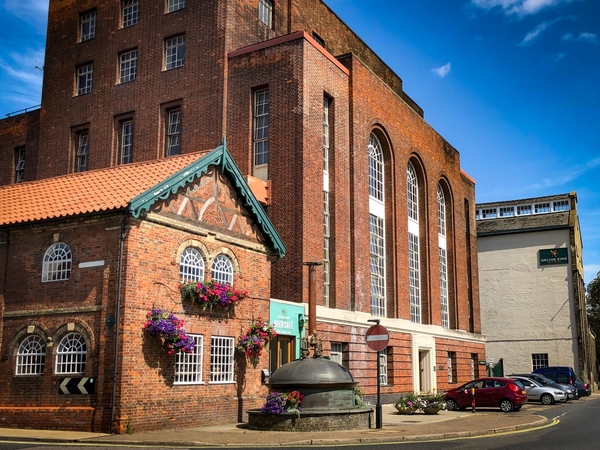 Greene King, based in Bury St Edmunds, Suffolk (above), will be the first major cask brewer to launch cask pins, 4.5 gallon containers, this summer backed by a seven-figure investment. 
With the effects of the pandemic still impacting the pub trade and the cost-of-living crisis leading consumers to drink out less frequently, Greene King believes that the introduction of pins containing 36 pints per cask  — half the size of the industry standard 9 gallon container — will reinvigorate the sector by helping licensees deliver a range of cask-fresh beer to customers every time, while minimising wastage. 
The brewer will roll out the cask pins to all managed, leased, tenanted and free trade customers this summer with its seasonal cask beers calendar, Fresh Cask Releases, which is a rolling portfolio of cask styles and flavours tailored to specific points in the year. 
The new investment will provide publicans with the opportunity to expand the range of cask ales on their bars, encouraging more people to try cask and broaden its appeal. The Fresh Cask Releases consists of a combination of returning favourites, key calendar creations, collaborations and new and exciting ales, inspired by legendary stories of the people and places associated with beer. 
With the introduction of pins, publicans will have the ability to manage a lower throughput at quieter times of the week, meaning less waste or risk of serving beer past its best quality. During busier times, cask pins offer publicans the opportunity to provide a seasonal cask ale, providing a wider choice on the bar. 
CGA data reports that cask drinkers are happy to pay more for a great quality pint and Greene King believes pins are another step in positioning cask ale as the premium product on the bar. 
John Malone, Head of Brewery Enagagement at Greeen King, says: "The launch of pins is one of many ways we are investing in the cask beer sector. We have addressed the challenges serving this unique product can bring, and we believe the introduction of pins will help our customers serve our fabulous beers in perfect condition every time, while minimising wastage and maximising profits. 
"Introducing pins will also provide our customer with the opportunity to expand their range and offer seasonal ales that provide a wider choice of styles and flavours to their guests. Cask ale is at the heart of a great pub, driving footfall and guest loyalty. We aim to support our customers in serving the best range of perfect quality beers for their bar."  
Seasonal ales that may be included in the pins programme are: New Tricks Golden Ale, Mischief Maker IPA, St Edmunds and Al Fresco.