Dan Beer News, Highland Park Brewery
(Los Angeles, CA) – January 13, 2023 – Highland Park Brewery is celebrating the release of their yearly imperial coffee stout, Griffith. To celebrate the release, HPB is throwing their third Griffith Weekend beginning Friday January 27th, 2023 to Sunday January 29th, 2023 in their Chinatown taproom.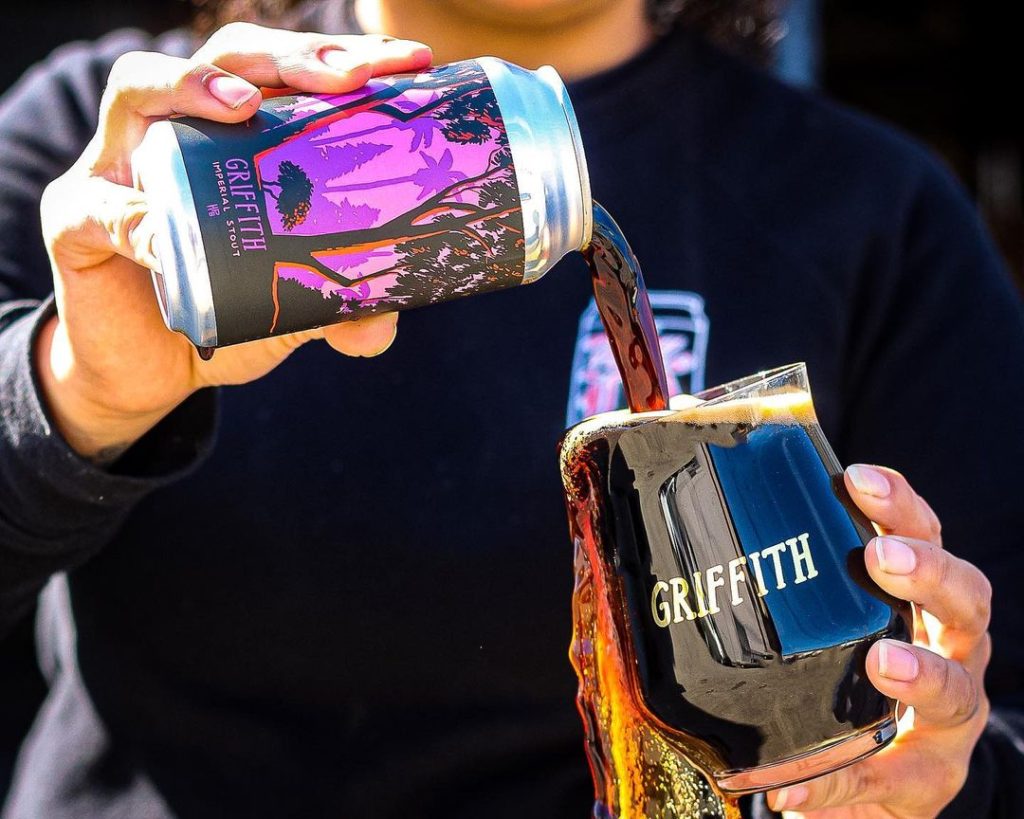 Griffith Weekend 2023 will kick off Friday January 27th, 2023 with the release of the 9th batch of Griffith Imperial Stout, and for the first time, the stout will be released in 12oz cans!
"This year's batch has a lovely roastiness with a touch of burnt caramel & a hint of baker's chocolate. We're excited about this year's batch, not just because we think it's the best Griffith yet, but also because of the added Trystero Coffee." – Josh Penney, Head Brewer at Highland Park Brewery
Friday 1/27/23: Griffith Imperial Stout w/Trystero Coffee 12oz can Limited edition Griffith glassware release. Food specials from the HPB kitchen team. Vintage Griffith and barrel-aged Griffith on draft.
Saturday 1/28/23: Barrel-aged Griffith 2023 bottle Limited quantities available.
Sunday 1/29/23: Open early at Guest coffee beers on tap from North Park Beer Co. (San Diego) and Cellarmaker Brewing (San Francisco). Espresso pulls from Greg Thomas of Trystero Coffee (Los Angeles).
Griffith – 13.5%ABV – Imperial coffee stout with Trystero Coffee. The 9th batch of our yearly imperial stout A big roasty, silky imperial stout with massive coffee flavors & aromas. Huge notes of dark chocolate,blueberry, & a touch of molasses.
BA Griffith – 13.3%ABV – Barrel-aged Imperial stout with Ethiopia Yirgacheffe Mengesha Farm Natural beans roasted by Trystero This year's BA Griffith aged in bourbon barrels for 12 months.
Marshmallow Griffith – 5%ABV – Draft Only/Limited Imperial Stout with Trystero Coffee, vanilla, & marshmallow.
Hazelnut Griffith – 5%ABV – Draft Only/Limited Imperial Stout with Trystero Coffee & hazelnut.
Founded in 2014, Highland Park Brewery is pumped to provide the freshest lagers and hoppiest beer to Los Angeles. In addition to seeking out quality and innovation in brewing, HPB is on a mission to contribute to the quality of life and betterment of our community through social and environmental stewardship. For more information, & to stay up to date with Highland Park Brewery, visit HPB.LA or follow us on Instagram, @highlandparkbrewery.
Highland Park Brewery
1220 N. Spring St.
Los Angeles, CA 90012
We use cookies on our website to give you the most relevant experience by remembering your preferences and repeat visits. By clicking "Accept All", you consent to the use of ALL the cookies. However, you may visit "Cookie Settings" to provide a controlled consent.