Comment
Added: Sunday, July 10th 2022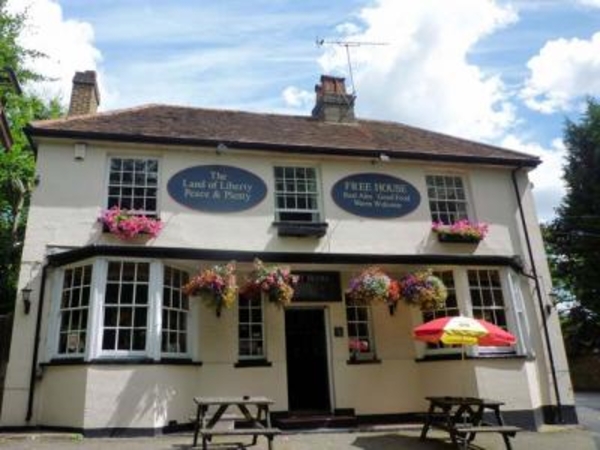 The Covid pandemic continues to throw a long shadow over the embattled British pub. And it's "wet-led" pubs that are feeling most of the pain – that's pubs that are geared, first and foremost, to selling beer and other drinks with, perhaps, a few snacks but not full meals.
A pub in Hertfordshire, with the intriguing name of the Land of Liberty, Peace and Plenty, is wet-led. It has a fascinating history but there are now doubts it has a future.
It's in the village of Heronsgate that was home in the mid- 1840s to a short-lived Chartist community. The Chartists were a mass movement that demanded, among other things, the vote for working men at a time when only property owners could take part in parliamentary elections.
One of the leaders of the movement was a radical MP, Feargus O'Connor. He created a number of rural communities where families from urban slums could raise livestock, grow fruit and vegetables and become self-sufficient.
A beer house was attached to the community in Heronsgate. The Londoners didn't take to rural life and the hard labour of tilling the soil and soon returned to The Smoke. The beer house remained and over the years grew into an attractive pub with a name that commemorates the Chartist community.
The pub has garnered praise for its fine range of cask beers and has won a shed-load of awards from CAMRA: it's currently the Campaign's Herts Country Pub of the Year.
But fine words don't butter the famous parsnips and Gill Gibson and Martin Few, owners of the Land of Liberty, are deeply pessimistic about the future of the pub they have devoted years of their lives to.
Martin says the pub received government grants during lockdown but that's now in the past and he and Gill face the harsh reality of life post-Covid. Martin says they are thinking of selling and believes the pub only has a future as a restaurant and not as a simple ale house.
The reasons will be familiar to all those running wet-led rural pubs. Martin says people have got out of the habit of going to the pub and prefer to stay at home with beer, cider and wine bought from supermarkets.
I revelled in the choice of ales on the bar, including Five Points from East London and the local Tring Brewery, but, as Martin agrees, if you're not a passionate beer lover you will take do with a box of Euro fizz from Tesco.
To compound the problem, many of the residents of Heronsgate are retired people living in expensive villas. Some of them turn their noses up at the very thought of going to a pub. If they go out, they will use up-market restaurants in nearby Chorleywood and Rickmansworth.
Those who are less fussy do use the pub but they are elderly and are a dying breed: Martin says many of his regulars have passed away in recent years. Younger residents are attracted to the bright lights of London, a quick train ride from Chorleywood.
Gill and Martin think if the pub becomes a restaurant it could thrive and would attract both residents and visitors.
But that would amount to throwing in the towel and closing a wonderful pub.
There are no easy answers to the plight of pubs such as the Land of Liberty. The government is contemplating a cut in VAT for pubs and restaurants, which would help but would be only a small plaster on a gaping wound.
Governments of all colours have refused to tackle the outrageous ability of supermarkets to undercut pubs. As Tim Martin of Wetherspoon has pointed out many times, supermarkets are refunded for VAT on food and drink and can sell beer as loss leaders.
With cricket, tennis and football in abundance on TV at present, supermarkets are knee deep in box of beer sold as cheaply as bottled water. It's no wonder the Land of Liberty is struggling to survive.
I was in the pub with my wife on a warm, sunny Saturday in late June, at lunchtime. We were there for an hour and during that time there was only one other customer in the place. As we were preparing to leave, the side door opened and four young women came in.
"You've got some more customers!" I said. Martin shook his head and said: "You watch."
The women went to the toilet and then walked out of the pub as if it were the most natural thing to do. "It happens all the time," Martin said resignedly.
It's known as taking a liberty.
First published in What's Brewing, July 2022.